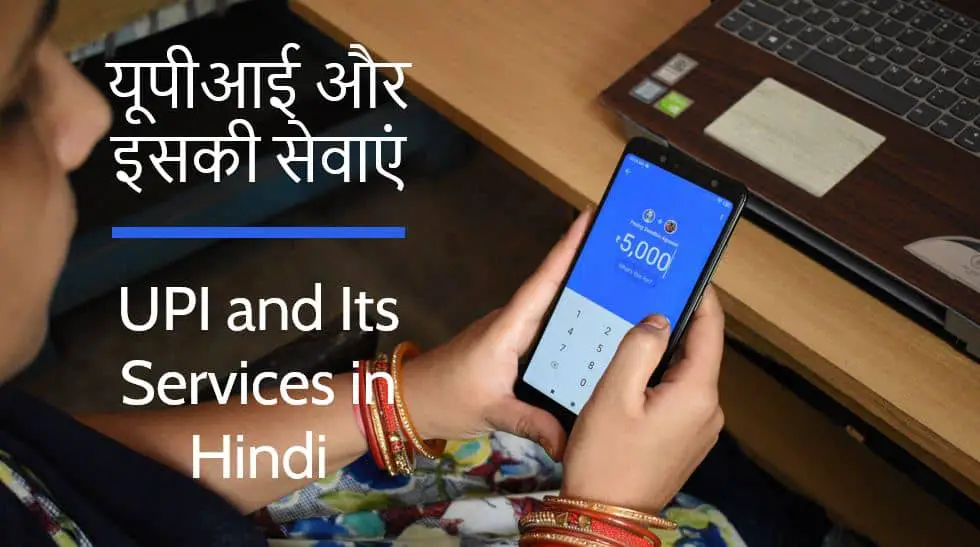 UPI and its services1 Yes guys! In this article today, we will give you all information about UPI service and app in easy language. Let's know!
UPI and its services =

1 UPI and its services UPI and its services in Hindi
1.1 What is UPI? Meaning of UPI – Unified Payments Interface
1.2 Who controls UPI? Who operates UPI services in India?
1.3 When was UPI started? When UPI Services was started?
1.4 How are money sent and collected from UPI? (How to get money send and receive money through UPI)
1.5 How to send money through UPI? How to send Money using any UPI App?
1.6 How to get money on UPI? How to receive money on any UPI App?
1.7 Facilities provided by UPI? Service Provided by UPI
1.8 Is UPI safe? Is UPI Transaction Safe?
1.9 Which apps are associated with UPI? Which apps are connected to UPI Services?
1.10 What is the transaction charge in UPI? What are the charges for using UPI Services?
1.11 Related Posts

What is UPI? M

U. P.I. means that the Unified Payments Interface is a smartphone application used by users for bank transactions between different banks.

It is a single-window-based mobile payment system created by the National Payments Corporation of India. This avoids the need to go to the bank and use other security details multiple times for every transaction done by the consumer.

Who controls UPI?

The Unified Payment Interface is a real-time payment system. It is operated by the Reserve Bank of India, the central bank of India. Through this, exchange of money between banks can be done easily only by using mobile.

This system facilitates the transaction of money between two parties (UPI users), and is considered to be a very easy and secure way to transfer money. In addition, it reduces the need to go directly to the bank and use cashless for any purpose.

When was UPI started?

Its primary form was launched on 11 April 2016 in India. Subsequently, from August 2016 banks from across the country started uploading their interface on this portal.

According to the National Payments Corporation of India, as of February 2019, around 134 banks have joined the system. And in the same month, 210 trillion rupees were exchanged through UPI.

UPI existing systems such as the ImMediate Payment System, and the Aadhaar Enabled Payment System, which ensure uninterrupted payment by all accounts. This application provides the facility of payment and acceptance of rupees.
How are money sent and collected from UPI?

When someone of an identity with whom UPI has done any transaction, then you have to pay any kind of credit card or debit card, net banking or any other information related to the account to pay it again. Will not be required

This not only provides more security to your secret information, but UPI easily connects people with smartphones without any interruption or difficult process for easy money transfer.

In short, UPI reduces the payment of money in the form of cash, thus proving to be of immense use for people who never go to the bank.
How to send money through UPI?

The process of sending money by UPI is called 'Push'.)

To send money, the first user has to log in to the application. After this, he has to choose the option of 'Send Money / Payment'.

After typing the ID of the person to whom you want to send money and how much money to send, select from which account you want to send money to your account.

After this, the user types his personal identification number code i.e. Personal Identification Number or UPI Pin code and make the desired payment sitting at home easily.

How to get money on UPI?

The process of obtaining money on UPI is called 'Pull'.

Once the user has logged into UPI, then he has to click on 'Money Collect' followed by the user's virtual ID and the amount of money to be sent.

After doing so, the request for money will be sent to the sender. If he would like to pay, he would type his UPI PIN there to complete the transaction.

When this process of money transaction is over, then a notification will arrive on the smartphone of both the person asking for money and sending the money.
Facilities provided by UPI?

UPI provides many facilities to the users. and

।Those facilities are as follows: –

Money exchange: – Facilitating exchange of money is one of the primary facilities provided by UPI. Money can be sent to any customer knowing his virtual ID.
Balance and Transaction: The most important thing about UPI is that it also gives you mini passbook. That is, whenever you want, you can see your previous transactions. It also does not have the obligation that the transaction is done by UPI itself, the transaction done from anywhere can be seen by UPI.
Bill payment: – Every app of UPI comes with this facility that you can pay all bills directly from your account without the help of wallet there. By doing this, the valet's mess ends and time is also saved a lot.
Cashback: – Cashback is given on every app of UPI, either through scratch card or by other means, on every transaction of yours.
Sending money to the account – UPI can be used to send money not only to users with virtual IDs, but also to those who are general account holders. For this process you should get the account number, IFSC code and other information sought by the person taking you.

Is UPI safe?

UPI is a payment device with an encryption format. In simple language, if I say, after UPI drinks, only this connection remains between the drinker and the giver, which means that no one else can interfere in it.
Which apps are associated with UPI?

After the arrival of UPI, the bank's assets have started to appear again, or at one time it seemed that the wallet app would dominate the banks. The valet apps are also associated with UPI, but they only act like a middleman.

Valet app related to UPI: –

S Bi Beverage
HDFC Bank Mobile Banking
ICICI Pocket
Axis Beverage UPI App
Union Bank UPI App
PNB UPI
On the phone
Canara Bank UPI
United UPI
Andhra Bank One
Uko upi
Bank of Maharashtra
Vijaya UPI
South Indian Bank
Kbl smart
OBC UPI PSP
UPI Bank Transfer With Friend
DCB Bank UPI App
Lotza
Trans app
CSB UPI

What is the transaction charge in UPI?

The NCPI had said at the time of UPI's launch that 0.50 paise will be charged in UPI. However some apps do not charge any kind for UPI transactions and give money and copuons as reverse rewards. Which include Phone Pay and Google Pay.