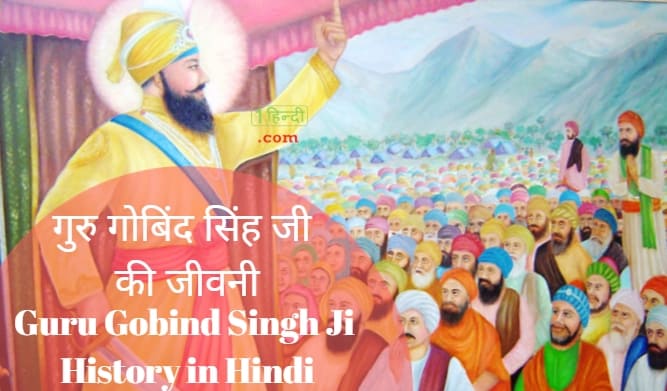 Biography of guru gobind singh ji
Biography of Guru Gobind Singh Ji Guru Gobind Singh Ji Biography History in Hindi
Birth Name – Gobind Rai Sodhi
Born – 5 January, 1666, Patna Sahib, India
Parents – Mother passed away, Guru Tegh Bahadur
Other Names – Tenth Sikh Guru, Sarbanes Dani, Mard Agamr, Dashmesh Pitah, Baj'an Wale
Former Guru – Guru Tegh Bahadur
Successor Guru – Guru Granth Sahib
Names of wives – Mata Jeeto, Mata Sundari, Mata Sahib Devan
Names of children – Ajit Singh, Jujhar Singh, Zorawar Singh, Fateh Singh
Death – 7 October 1708 Hazur Sahib Nanded, India
Great works – Founder of Khalsa (Khalsa) Panth and Jap Sahib, Chandi Di Var, Tava – Prasad Savaiye, Zafarnamah, Bachittar Natak, Akal Ustat, Sikh Chowpai. Author of (Jaap Sahib, Chandi di Var, Tav-Prasad Savaiye, Zafarnamah, Bachittar Natak, Akal Ustat, Sikh Chaupai)
Biography of guru gobind singh ji
Guru Gobind Singh ji has a huge hand in the development of the Sikh community. Guru Gobind Singh was the founder of Sikhism but he had a great hand in taking Sikhism forward as he started the military ethos in which some male Sikhs were asked to carry swords at all times. He was the last Sikh Guru in the Sikh community and for this reason he is known as Param Guru, Guru Granth Sahib.
Birth and early life of Guru Gobind Singh
Gobind Singh was the only son of his father Guru Tegh Bahadur and mother Gujri. He was born on 5 January 1666, in Patna Sahib, Bihar, India. At the time of his birth, his father had gone to preach religion in Bengal and Assam.
He was named Gobind Rai. After his birth, he lived in Patna for four years and his place of birth is known today as "Takht Shri Patna Harimandar Sahib".
In 1670 his family returned to Punjab. He then moved to Chakka Nanki in March 1672, which is situated in the lower valley of the Himalayas. There he took his education. Chakk Nanki city was founded by Teg Bahadur ji, father of Gobind Singh, which is today known as Anandpur Sahib. In 1665, he bought that place from Sasak of Bilaspur (Kahlur).
Even before his death, Tegh Bahadur had announced Guru Gobind ji as his successor name. Later on March 29, 1676, Gobind Singh became the 10th Sikh Guru. While living in a camp on the banks of river Yamuna, Guru Gobind ji also learned martial arts, hunting, literature and languages ​​such as Sanskrit, Persian, Mughal, Punjabi, and Braj languages.
In 1684, he also wrote an epic poem called "Var Sri Bhagauti Ji Ki" Var Sri Bhagauti Ji Ki / Chandi Di Var. This poem depicts the struggle between Hindu Goddess Bhagwati / Durga / Chandi and the demons.
Guru Gobind Singh had three wives
On 21 June 1677, at the age of 10, he was married to Mata Jeeto in Basantgarh, 10 km from Anandpur. They both had 3 boys named Jujhar Singh, Zorawar Singh, Fateh Singh.
On April 4, 1684, at the age of 17, he was married with his second wife Mata Sundari at Anandpur. He had a beta named Ajit Singh.
On 15 April 1700, at the age of 33, he married Mata Sahib Devan. Although he did not have any children, but his phase on the pages of Sikhism was also very influential.
Establishment of Khalsa
Guru Gobind Singh ji's nurturing brought something new to the history of the Sikh community. He built Khalsa Khalsa which is a collective form of Sikhism duly initiated followers on the day of Baisakhi in 1699.
In a meeting of the Sikh community, he asked in front of everyone – who wants to sacrifice his head? At the same time a volunteer agreed to this and Guru Gobind Singh took him to the tent and returned some time later with a bloodied sword.
Read also – Babur's life introduction and history history and biography of Babur
The Guru again asked the people of that crowd the same question again and likewise another person agreed and went with them but when they came out of the tent, the blood-stained sword was in their hands.
Similarly, when the fifth swayamsevak went inside the tent with him, Guru Gobind Singh returned after some time with all the surviving servants and named him Panj Pyare Panj Pyare or earlier Khalsa.
After that Guru Gobind Ji took an iron bowl and mixed it with water and sugar and mixed it with a double-edged sword and gave it the name of Amrit. After making the first 5 Khalsa, he was renamed Chhatwan Khalsa after which he was renamed Guru Gobind Singh from Guru Gobind Rai. He explained the five significance of the word ka to the Khalsa and said – kesh, comb, kadha, kirpan, kutcha.
Also, Guru Gobind Singh Ji prepared some rules for the Khalsa warrior like –
They can never use tobacco.
Cannot eat sacrificed meat.
Can not make any kind of relationship with any Muslim.
Never talk to those who rival his successor.
Some of the main battles fought by Guru Gobind Singh
It is said that Guru Gobind Singh fought a total of fourteen wars but never detained or damaged the people of any place of worship.
Battle of Bhangani Battle of Bhangani (1688)
Battle of Nadaun Battle of Nadaun (1691)
Guler's Battle Battle of Guler (1696)
First Battle of Anandpur First Battle of Anandpur (1700)
Battle of Ananspur Sahib Battle of Anandpur Sahib (1701)
Battle of Nirmohgarh Battle of Nirmohgarh (1702)
Battle of Basoli Battle of Basoli (1702)
Battle of Anandpur Battle of Anandpur (1704)
Battle of Sarsa Battle of Sarsa (1704)
Battle of Chamkaur Battle of Chamkaur (1704)
Battle of Muktsar Battle of Muktsar (1705)
Family deaths
It is said that the Muslim governor of Sirhind had taken Guru Gobind Singh's mother and two sons. When both of his sons refused to accept the religion of Islam, he was buried alive.
Unable to bear the grief of the death of her grandchildren, Mother Gujri too could not live long and died soon after. Both of his elder sons died in 1704 while fighting with the Mughal army.
Zafurnama
When Guru Gobind Singh saw that the Mughal army had unfairly fought and brutally murdered his sons, instead of giving up arms, Guru Gobind Sing issued a letter "Zafarnama" to Aurangzeb.
Later Guru Ji founded again in Muktsar, Punjab and dedicated himself to create a new chapter of Adi Granth Adi Granth which has been compiled by the fifth Sikh Guru Arjuna.
He has created a collection of his writings called Dasam Granth Dasam Granth and his own autobiography named Bachchar Natak.
When did Guru Gobind Singh ji die?
According to Senapati Shri Guru Sobha, Guru Gobind Singh had a deep injury on his heart. Because of which, on 7 October 1708, at the age of 42 in Hazur Sahib Nanded, Nanded, he abandoned his body.